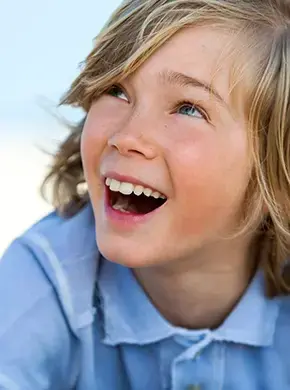 To share the details of your exceptional experience at Wilmington Orthodontics, please see Maria at the front desk. Thank you!
Wilmington Orthodontics rocks! Dr. Rachel and her staff are the best. They are always happy and super friendly. Dr. Rachel was recommended by my dentist and my friend, who's a dentist, and it's obvious why. She's a perfectionist and teeth are an art form to her, not just a job. She genuinely cares! I am 45 years old and decided to get Invisalign because I love to smile. I never had braces as a kid. My teeth were naturally crooked and I was ok with that for a long time. But once I turned 40, my front teeth didn't look as nice to me in pictures any more. I now had a good side and a bad side because my teeth had gotten crowded over time. I was nervous to do Invisalign because of the time commitment, which is two years for me. However, after just six months, I experienced amazing results. I am happy with my teeth in pictures again. Every week, I get a new tray and I get so excited for it. This is some of the best money that I have ever spent on myself! And, I'm using pretax money as it qualifies for an FSA. Most people can't even tell that I'm wearing Invisalign. Dr. Rachel is always trying and investing in the latest technology. I love that she still goes back to school to get trained in her craft. And, she is always available if you have any questions. I can't wait to see the end result!
Kristen Kelley ─ March 31, 2017
Please extend my sincere thanks to Dr. Perlitsh for taking the time to see Kimberly yesterday (so quickly and on such short notice) and for calling me back to follow-up on Kim's condition. She went above and beyond and I really appreciate it. Thanks again. Your office is fantastic!
Jackie O. ─ March 23, 2016
Can't say enough good things about the staff and Dr. Rachel! I had three children in treatment at the same time and they could not have been more accommodating with schedules. We are done and they all have beautiful smiles thanks to Dr. Rachel!
Kathy B. ─ October 6, 2015
3 kids, 3 wonderful smiles – thanks to Dr. Rachel!
Nancy K. ─ October 1, 2015
Love her she did an amazing job on my daughters teeth!
Beverly P. ─ September 30, 2015
Dr Rachel and her staff have been nothing but short of phenomenal in the orthodontic care of our two daughters, aged 13 and 15. Our older child just completed treatment and we are thrilled with the results.
Every step of the way, Dr. Rachel and her staff have treated our daughters with the utmost care and kindness. Dr Rachel's chairside manner is remarkable. You are always welcomed with a smile and she is never too busy to discuss treatments plans and progress.
The office is comfortable and friendly. The snacks and computer games are a nice bonus. Appointments are on time. Our 30 min drive is well worth the trip.
We highly recommend Dr Rachel and her staff.
Thanks again for everything. Jordyn can't stop smiling!!!
Karl and Brooke A. ─ September 1, 2015
In 2011, my son had braces applied to address his bite and overcrowding. Two years later he had to use braces removed and his teeth looked SO FABULOUS, that I decided at age 45, to also get braces. I am very pleased that I did this Dr Rachel and her entire staff are extremely helpful and professional. I can't say enough about the way the office is managed and the way the office is managed and the way care is provided. I recommend Wilmington Orthodontics to everyone.
Michele R. ─ July 24, 2015
Great people and a welcoming environment. The whole experience of getting braces on was rough at first, but all worth it in the end.
Philip M. ─ July 22, 2015
The office staff is always friendly and happy when we come in. They are very helpful with the financial aspect and also very flexible in the payment plans. Although the office is a busy one we have rarely had to wait and they usually take us early if we are there. My children are all very happy with Doctor Perlitsh and the other dental assistants.
Ann V. ─ June 17, 2015
The staff at Wilmington Ortho are amazing. They are kind and caring. Dr Perlitsh is an amazing orthodontist who cares about the wellbeing of her patients. I highly recommend W/O to anyone seeking a perfect smile.
Dr. Perlitsh is a perfect orthodontist.
Thank you!
Craig H. ─ May 28, 2015
I like the waiting room. Everyone is very nice. Everything is organized.
Catlin L. ─ May 28, 2015
My son has had such a great experience at Wilmington Orthodontics. The staff is so kind and friendly and made my son feel so comfortable. I would recommend them to everyone!
Janine F. ─ May 26, 2015
Everyone is so friendly and welcoming! Dr. Rachel is a perfectionist and definitely show that she knows what she is doing!
Ashley W. ─ May 21, 2015
The best orthodontist in the world, and not just for kids! I can smile with confidence because of my beautiful straight teeth and my son Tony, is more handsome than ever! We love Dr Perlitsh!!
Best of the best for orthodontia!!
Pam & Tony Z.